Roberto Pineiro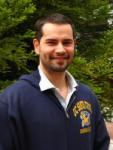 Email: rpineiro@soe.ucsc.edu
Roberto Pineiro is a PhD student working on buffer management for predictable performance with Professor Scott Brandt. Before graduate studies at UCSC, he earned a B.S in Mathematics and a M.S. in Computer Engineering from the University of Puerto Rico- Mayaguez.
Publications
Roberto Pineiro, Kleoni Ioannidou, Carlos Maltzahn, and Scott A. Brandt, "RAD-FLOWS: Buffering for Predictable Communication," in RTAS 2011, Chicago, IL, 2011.

Scott A. Brandt, Carlos Maltzahn, Anna Povzner, Roberto Pineiro, Andrew Shewmaker, and Tim Kaldewey, "An Integrated Model for Performance Management in a Distributed System," in OSPERT 2008, Prague, Czech Republic, 2008.

David Bigelow, Suresh Iyer, Tim Kaldewey, Roberto Pineiro, Anna Povzner, Scott A. Brandt, Richard Golding, Theodore Wong, and Carlos Maltzahn, "End-to-end Performance Management for Scalable Distributed Storage," in pdsw07, Reno, NV, 2007.