Andrew Shewmaker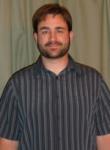 Office: Los Alamos, NM
Email: ashewmak@ucsc.edu
Andrew Shewmaker is a member of the HPC Systems Integration team at LANL. He is researching network Quality of Service in support of end-to-end performance management for distributed storage systems with Carlos Maltzahn, Katia, Obraczka, and Scott Brandt.
Publications
Andrew G. Shewmaker, Carlos Maltzahn, Katia Obraczka, Scott Brandt, and John Bent, "TCP Inigo: Ambidextrous Congestion Control," in 25th International Conference on Computer Communications and Networks (ICCCN 2016), Waikoloa, HI, 2016.

Nic Brummell, John L. Gustafson, Andrew Klofas, Carlos Maltzahn, and Andrew Shewmaker, "Unum Arithmetic: Better Math with Clearer Tradeoffs," in PMES 2016, 2016.

Andrew Shewmaker, Carlos Maltzahn, Katia Obraczka, and Scott Brandt, "Run, Fatboy, Run: Applying the Reduction to Uniprocessor Algorithm to Other Wide Resources," University of California at Santa Cruz, Santa Cruz, CA, Tech. rept. UCSC-SOE-14-08, Jul. 2014.

Scott A. Brandt, Carlos Maltzahn, Anna Povzner, Roberto Pineiro, Andrew Shewmaker, and Tim Kaldewey, "An Integrated Model for Performance Management in a Distributed System," in OSPERT 2008, Prague, Czech Republic, 2008.

Tim Kaldewey, Andrew Shewmaker, Richard Golding, Carlos Maltzahn, Theodore Wong, and Scott A. Brandt, "RADoN: QoS in Storage Networks," in fast08wip, 2008.